Grid Pattern - Euro Style Glass Doors - Chicago IL
Glass doors with euro style pattern grids are a distinctive way to improve the look and feel of your home. A European influenced style of grid design makes any room more distinct and we can match a specific style of even historical architectural period. They can also turn a large open pane into something extraordinary. The style and build of your door will depend on the material you select, and we have several to choose from. The different grid design options available are dependent on where the doors are placed. Call Central Glass to see what's possible in the latest Euro Grid Style doors.
---
Custom grid style euro doors installed in 2-3 weeks
At Central Glass, our goal is to manufacture and install custom glass shower enclosure that are elegant, functional, affordable and exceed your expectations. By manufacturing the shower enclosures in our Chicago facility, and installing these in your home by only highly-trained craftsmen, we consistently deliver outstanding results and beat our competitor's pricing every time.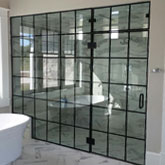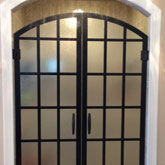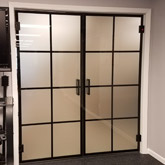 Schedule a Grid Pattern Euro Door Estimate Today: 630-852-5500
To learn more about how Central Glass can make and install your custom tub enclosure, please call us at 1-630-852-5500 or stop our Chicago or Downers Grove showroom. We proudly serve residents in Chicago, Naperville, Burr Ridge, Arlington Heights, Barrington as well as the Northern, Western and Southwestern suburbs.
Free In-Home Estimates:


We come out, we measure, we show you samples and we give you a written estimate. No sales pressure, no gimmicks and absolutely no obligation.
Plumbing Considerations:


When ordering your glass shower Enclosure and hardware, we strongly suggest that all plumbing work be completed beforehand by an experienced and professional local suburban plumber to insure exact measurements and a proper install.
As Featured on the Popular Cable Show: "Design on a Dime"


Central Glass is committed to making your experience of purchasing a shower enclosure pleasurable and stress-free. From the second you call us to the completion of the project you will receive courteous, friendly treatment, prompt service, and excellent communication. That's because you will not be dealing with a commission driven salesman. Instead, you'll be visited by me, the owner of the company and I will be your personal shower enclosure expert. I will gladly visit your home, listen to your ideas, make suggestions, and together you and I will design a beautiful and functional shower enclosure. Should you place and order with us, I will personally keep you updated as to the status of your order. And when the project is completed, please, don't hesitate to call me with questions or concerns. I have an excellent reputation for "no questions asked service" even years after project completion. It's just the way I am!