Grab Bars - Bathrooms Showers Kitchens
Central Glass Chicago offers practical grab bar safety solutions for bathrooms, kitchens, and so much more. We cater to your specific needs whether it be to prevent the loss of independence for the elderly, helping individuals with chronic disease or physical disabilities, or for everyday convenience. We are uniquely qualified to provide grab bars, installation services and bath safety products with the most affordable solution for your budget
---
Add safety & style with kitchen or bath Grab Bars from Central Glass Chicago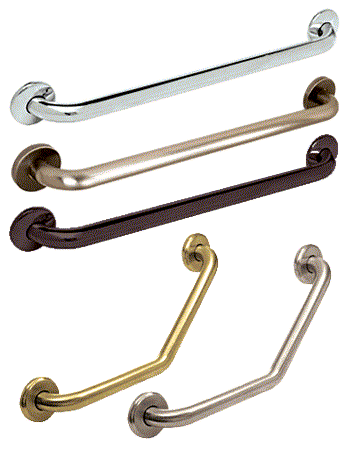 These heavy-duty Grab Bars will not only increase safety, but will add to the décor of any bathtub or shower enclosure. At the same time, they provide an important element of bathroom safety. These surface mounted Bars are 1-1/4" (31.8 mm) in diameter, and feature a cover flange to conceal the fasteners.
Standard straight lengths are 18" and 24" (457 and 610 mm). The stylish 20" (508 mm) 135º Grab Bar (with or without basket) brings a new and different look to Grab Bars. Constructed of stainless steel (Chrome) or brass material (all other finishes) in nine finishes, Grab Bars come individually wrapped with fasteners included.
Grab Bars in various sizes and nine different finishes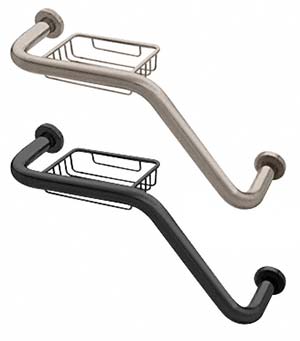 We feature some of the highest quality grab bars in the Chicago area with professional installation from the suburbs most trusted glass shower doors installers: Central Glass Chicago. Shower, Bath, and Kitchen grab bars come in various sizes and forms to math just about every safety need or concern you have. They also come in the following finishes:
- Bright Chrome
- Satin Chrome
- Brass
- Brushed Nickel (stainless)
- Polished Nickel
- Satin Nickel
- Oil Rubbed Bronze
- White
- Black

Call for a grab bar estimate or installation: 630-852-5500
Call Central Glass Chicago for your free no obligation estimate. We will come out, listen to your ideas and plans, answer any questions, show you samples, measure your exact shower area and provide you with a complete estimate with diagram. When it comes to custom glass shower enclosures, nobody in Chicago or surrounding suburbs can match our pricing and craftsmanship.
---
90% of the time, we beat competitor's installation prices by at least 10%
We consistently beet our competitor's prices over 90% of the time, on glass shower door enclosures and glass shower door installations as well as grab bars.
Free Grab Bar Estimates:


Practical Grab Bar Safety Solutions for bathrooms, kitchens, and so much more!
Our technicians are experienced in the field and will assist you in determining the priority placement of grab bars where they are most effective for you and your loved ones!
Featured on: "Design on a Dime"


Central Glass is committed to making your experience of purchasing a shower enclosure pleasurable and stress-free. From the second you call us to the completion of the project you will receive courteous, friendly treatment, prompt service, and excellent communication. That's because you will not be dealing with a commission driven salesman. Instead, you'll be visited by me, the owner of the company and I will be your personal shower enclosure expert. I will gladly visit your home, listen to your ideas, make suggestions, and together you and I will design a beautiful and functional shower enclosure. Should you place and order with us, I will personally keep you updated as to the status of your order. And when the project is completed, please, don't hesitate to call me with questions or concerns. I have an excellent reputation for "no questions asked service" even years after project completion. It's just the way I am!