Custom Glass Shower Doors Chicago and Suburbs
From glass shower enclosures to glass shower doors to custom mirrors, Central Glass Chicago has been the premier manufacturer and installer of top-quality glass products in the Chicago, Downers Grove and Naperville areas since my family first got into this trade back in 1938. We specialize in frameless shower enclosures and custom mirrors for the Chicago residential and commercial market. We install frameless shower doors, mirror closet doors, and glass vanity sinks with design features that include painted art glass, etched glass, and glass sandblasting.
We pride ourselves on outstanding customer service, competitive pricing and flawless craftsmanship. We have NO salespeople and NO subcontractors, which means NO surprises for us and our customers. To truly understand what you need and how it needs to fit, the installer is the one that comes to you, measures your project, answers your questions, and gives you a free estimate. If you can imagine it, we can produce it and install it in your place for less than you think. That's why we are the clear choice.
I'm the third generation in my family to master this trade and have developed and maintained an impeccable reputation for quality and price in our industry. No high pressure sales, just a quality focused business driven by repeat customer satisfaction.
Michael J. Abrignani - President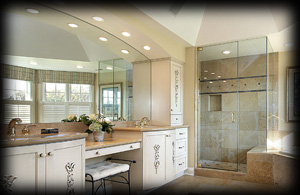 Free In-Home Estimates:
Call today at 1-630-852-5500
We come out, we measure, we show you samples and we give you a written estimate. No sales pressure,no gimmicks and absolutely no obligation.
No Commissioned Salespeople


Central Glass Chicago is committed to making your shower enclosure purchase pleasurable and stress-free. From the initial first call to project completion, you will receive courteous treatment, prompt service, and excellent communication. That's because you will not be dealing with a commission driven salesman. Instead, you'll be visited by me, the owner of the company. I will listen to your ideas, make suggestions, and together we will design a beautiful and functional shower enclosure. Should you place an order with us, I will personally keep you updated as to the status of your order. When the project is completed, count on us to answerer any maintenance questions you should have. We have an excellent reputation for "no questions asked service" even years after project completion. It's just the way I am!